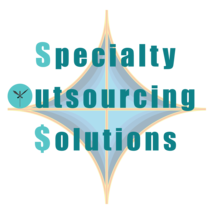 Administrative Services:


​
We also provide administrative services in all areas of office administration, including:
Correspondence;

Quotes

​

Proposals;

​Bid Packets;

​Company Policy & Procedure Manuals;

Employee Handbooks​

Safety Manuals;

​Logo Creation;

Business Cards;

Brochures;

On-line Media;

Custom Mailings;

Basic ​Office Setup;

Secretary of State Filings;

Acquiring an FEIN;​

​

Software Training (Microsoft Word, Outlook & Excel);​

Notary services.
Minor IT Services:
We can also provide basic support services such as:
Installing Software;​

Setting up Email Accounts;

Utilizing your existing Windows software;

Adding switches, printers, etc.;

Basic troubleshooting.​
We can work with your current IT consultant to help you with all of your IT needs.
Specialty Outsourcing Solutions, PO Box 1021, Oak Forest, IL 60452
info@sos-consultants.net • (708) 774-9420
www.sos-consultants.net

Basic Accounting Services:
We are proficient in helping you with the following day-to-day accounting functions:
​Initial Software Installation and Setup;

Accounts Payable;

Invoicing;​

Accounts Receivable;

Collections;

Payroll (union & non-union, wage garnishments, etc.);

New Hire Reporting.​
​
​
​
Specialty Accounting Services:
We specialize in all areas of construction accounting and can help you with:
Bidding on Projects;

Invoicing - including AIA Billing (G702, G703), Waivers, and Certified Payroll;

Union Reporting;

Pre-Qualification Statements (AIA 305)​;

Change Orders;​​

Job Costing.​
Advanced Accounting Services:
We can provide specialty items that may be needed by your financial institution or accountant such as:
Work-In-Progress;

Backlog;

Budgets;

​Cash-flow Projections;

Audit Preparations (for Bank, Union, & Bonding requirements);

Quarterly Journal Entries.
Flexible solutions for your business needs...